Next Monday, March 8th, is International Women's Day. In honor of this, the talented women from the Etsy HC Street Team have teamed up to bring you an absolutely fabulous giveaway!
So, what is this amazing giveaway? Well, let me tell you ...
From Holden's Landing:
A luxuriously soft organic bamboo velour pillowcase, natural with lavender satin trim. Perfect for a peaceful night's sleep - a must for every woman! (retail value $26)
From Love Abounds:
Fragrant Coconut Rice™
Fluffy Thai Jasmine rice infused with freshly toasted coconut and coconut cream. This fragrant rice is an easy way to make your meals extra special. It pairs well with curry dishes, stir fries, grilled fish and other meats. Leftover rice, if there is any, makes a wonderful rice pudding. (Prep Time: 5 minutes Cook Time: 20 minutes Servings: 4-5) This kit comes with rice, toasted coconut and a coconut cream mix. It is easy to prepare on the stove top and even easier in a rice cooker. Fragrant Thai Jasmine rice, unsulfured unsweetened toasted coconut, and our own coconut cream mix. No hydrogenated oils, corn syrup, or MSG. (retail value $6)
From Bungalow Bear & Friends:
6"fairy Waldorf doll sachet/ornament (retail value $18)
From Zany Zebra Designs:
This pretty pair of panties features a pure white body and feminine pink and white striped cotton/lycra knit waist and leg bands.
About Dundies:
Once you try Dundies you'll never wear store-bought panties again! Dundies won't ride up, pinch or give you a wedgie. The unique cut and stretchy fabrics work together so each size fits a wide range of body shapes and hip measurements. The rise gets lower as they stretch, so a size 8 will have a higher rise on a 34" hip than on a 44" hip. Dundies are made from soft knits that are breathable and oh-so comfy against your skin. Elastic-free hip and leg bands provide a snug fit without digging in. Seams are serged on the inside to avoid any ugly panty lines. Each pair of Dundies is hand-crafted without the use of industrial machines or techniques by Amy Sue of Zany Zebra Designs. (retail value $15)
From Jujube Baby:
One 3.5oz skein Aran BFL in the "Topography" colorway.
About the colorway: "Topography" is kettle dyed on UK BFL using professional acid dyes. A light yellow-tinged green, bright red, black, purple, sea water blue, and earthy brown make up this colorway.
About this BFL: BFL is a sturdy yarn with a soft feel. There are 2 3.5oz. skeins available for a total of 7oz. Approximately 182 yards per skein. (retail value $19)
From Buff Organics:
Aloe All Over Lotion, 8 oz. pump bottle
Conditioning lotion with Organic Aloe Vera to soothe and alleviate dry skin. Great as an everyday body and/or hand lotion. This lotion is a wonderful treat for the skin. Apply right after a shower or bath and as needed throughout the day. This lotion feels great and soaks in quickly. Perfect for all skin types. Scented in Lavender & Vanilla, which is made with Essential Oil of Lavender and hints of Vanilla Select. A wonderfully sweet scent! (retail value $10)
From Lilia Designs/GWTF:
1 9" Standard Mini Go With The Flo pad in "Moss" & 1 11" Standard Maxi Go With The Flo pad in "Harvest"
Go With The Flo pads have an organic hemp fleece core topped with hand dyed, organic bamboo velour. They are backed with soft, high performance fleece that provides complete leak protection. Our original wing design wraps around panties and snaps for a secure fit that doesn't shift. Our Standard Minis are suitable for light days and/or IUD backup, and our Standard Maxis are suitable for moderate to heavy flow. (retail value $25)
From Relic Soap Company:
4 assorted half slices of natural, artisan soap, packaged beautifully with a raffia bow and hang tag. Each slice weighs approximately 2-2.5 ounces. The fragrances include: Sandalwood Vanilla, Lavender Mint, Winter Solstice, and Hippie Chick. Each soap is our special blend of top shelf vegetable oils, fragrances and essential oils, and other spa-quality ingredients. Our soaps are specially designed to be mild enough for even the most sensitive skin. (retail value $12)
From Blossom Pads:
Blossom Nursing Pads ~ Blossom now offers nursing pads that are absorbent, soft and fun. Our 100% cotton nursing pads are made from multiple layers of thirsty cotton fleece and a topped with a cute knit print. Looking for wool pads? Try our wool nursing pads made with two layers of buttery soft wool interlock ~ excellent at wicking moisture away from the skin. Blossom Nursing Pads are serged together to prevent fraying and to allow the pad to lay smooth and shape itself to your breast. These pads can be hand or machine washed cold and lay flat to dry. (retail value $8.50)
From Gillyweeds
Set of 3 crocheted scrubbies, one nylon, the other two cotton, perfect for face or body (retail value $4.50)
From Sweet Slings:
Hanging Mama Cloth Wetbag, made with high quality 100% cotton outer fabric and 2 mil PUL inner liner, this bag measures 13" wide by 16" tall. The PUL liner is attached to the bag twice at the top seam and out exclusive bottom finish means no restuffing the liner in to the bag after the wash! (retail valu $15)
From Daisy Cake Kids:
Twin pack of Lavender Bath Bombs (retail value $6)
From Joyful Earth:
Teeny tiny tea on the go set - A mini version of our larger tea on the go set, this set features two pockets. Included with your mini set are a PUL wet bag for your used tea bag and one reusable muslin tea bags. (retail value $10)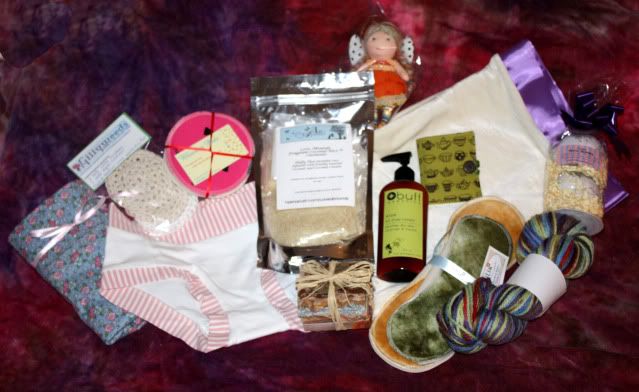 That's $175 worth of the most amazing, hand crafted goodies to pamper yourself with! You know you want to enter this giveaway! How, you ask? Well, it's simple ... just leave a comment at the end of this post answering the following questions, in honor of International Women's Day:
Who has been the most influential women in your life?
Want more ways to enter? No problem!
* Visit
etsy
and search our team tag (team hyena) and post a reply with your favorite item
* Follow the team blog and post a reply saying you are doing so. Already a follower? Post a reply saying so!
* Fan us on
facebook
and pst a reply saying you are doing so. Already a fan? Post a comment saying so!
* Follow us on
Twitter
and post a reply saying you are doing so. Already following? Post a comment saying so!
* Tweet this giveaway, do a blog write up about it, post it to facebook ... and leave a comment with the link
Winner will be chosen using random.com on International Women's day, Monday, March 8th and posted to the blog and facebook.
** Contest is closed, winner posted above!**