Are your kiddos ready for summer? Team Hyena can help - with our May giveaway full of summer fun!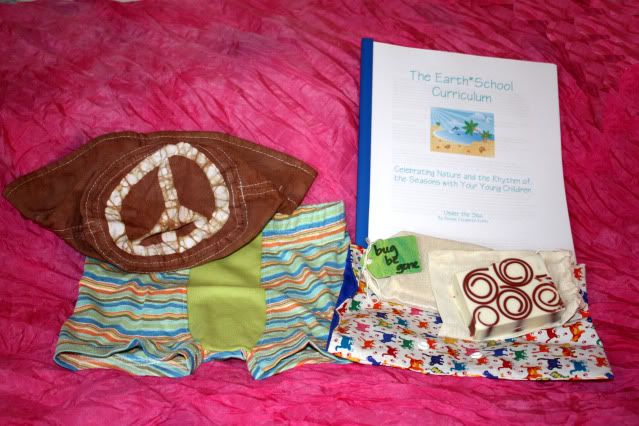 What kinds of summer fun do we have?
◘ From My Beautiful Girl: A fun pair of striped boxers works perfectly for boys or girls. The hidden elastic waist keeps kids comfy. Size 5 (retail value $7.50)
◘ From Earth*School: Under the Sea curriculum unit (retail value $10)
◘ From Joyful Earth: fun, reusable sandwich bag for the eco-conscious kid on the go this summer. The perfect replacement for plastic baggies! Our sandwich bags are both eco friendly and food safe. Simply shake out the crumbs and reuse. If your bag becomes soiled, pop it in the washing machine for a more thorough cleaning. Each bag features a fun cotton print fabric on the outside with an uncoated nylon inner. Use your Joyful Earth Sandwich bag for sandwiches or dry snack foods like crackers, or trail mix. (retail value $8)
◘ From Alfabette Zoope: a youth-sized bucket hat, batiked with a peace sign and then lwi-dyed in a palette of gender-neutral warm and muted browns -- perfect for sunny days to keep the sun out of the eyes or add a little extra flair to an outfit. (retail value $16)
◘ From Big Bad Voodoo Mama: 35"x35" 100% habatoi silk hand dyed with professional grade textile dyes. Hand wash and hang to dry. (retail value $10)
◘ From Relic Soap Company: 2
cold-processed artisan soaps made from pure vegetable oils. Eco-friendly and family-friendly.
Raspberries and Cream and Bug Be Gone (retail value $12)
So that's over $70 of summer fun! How do you win? Just enter in any/all of the following ways and one winner will be drawn at random on Friday, May 14th!
Mandatory entry:
* Post a comment answering the following question: What summer fun are your kids most looking forward to?
Additional entries:
* Search the team tag on etsy (team hyena) and leave a comment with your favorite item
*
Fan the team on facebook
and post saying you did so (Already a fan? Post telling us!)
* Follow the blog and post saying you did so (Already following? Post telling us!)
** Congrats to comment #28 - john/sb