\
Zany Zebra Designs has been your source for extraordinary cloth diapering products and essential cloth diapering information since 2005. We specialize in appliquéd diapers and diaper covers as well as trim fitteds in trendy fabrics. In 2009 we proudly introduced Women's Dundies: panties so comfortable you'll forget you're wearing them, and soon will unveil a line of children's tee-shirts appliquéd with our exclusive designs.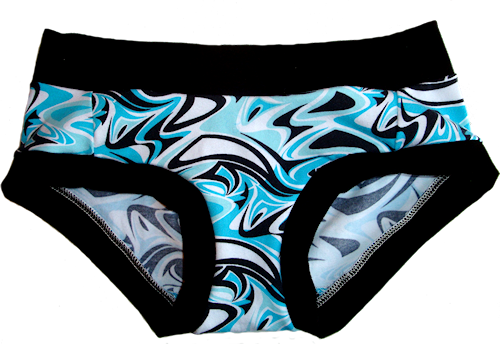 Women's Dundies are made of cotton/lycra knit that is ultra-soft yet retains it' shape so you won't every suffer from"droopy drawers."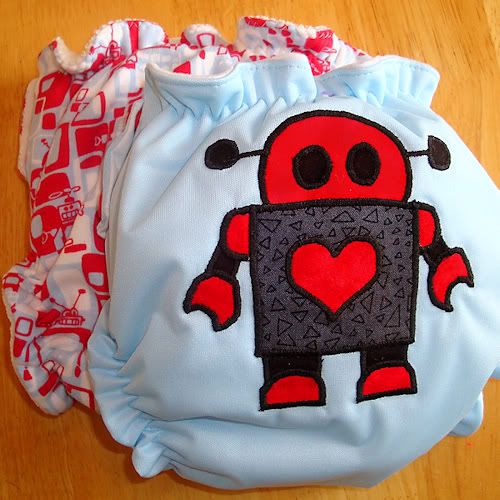 One of my favorite sets: a fitted diaper from the trendy Busy Bots fabric with a coordinating robot appliquéd diaper cover.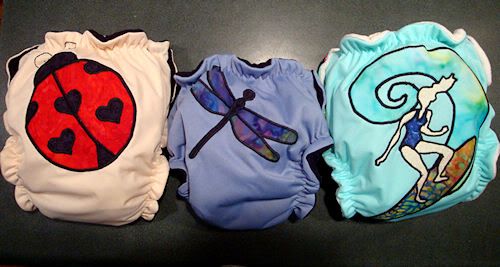 More appliquéd diapers. I can never decide which part of the appliqué process I enjoy most: designing the appliqué, choosing fabric, or doing the stitching that makes the colors "pop."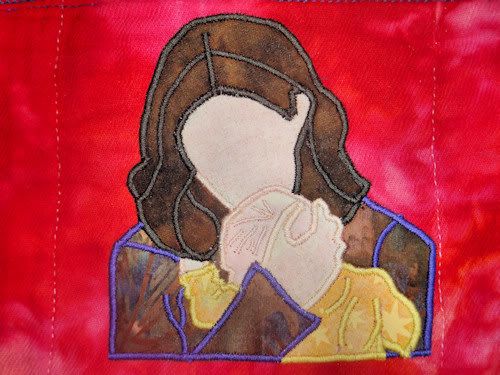 This is my favorite appliquéd prefold diaper. The appliqué was inspired by a photo of a fellow WAHM cuddling her infant daughter.
EHCST: What are your inspirations for your designs?
ZZD:
I get my inspiration from many different places. Often a customer will send in a photo of something she'd like made into an applique design. Other times I'll find a photo that speaks to me; like the photo of Jennifer with her daughter. Most of the time I'm not even looking for a design but something will catch my eye and I can't rest until I've made an appliqué of it.
EHCST:
Do you have any one design in particular that is your favorite? If so, which one?
ZZD: My designs are like my children - I love them all for different reasons but really can't pick one favorite. As I'm working I always think about the mamas and children that I'm sewing for, and that makes each design special to me. I've done designs based on drawings done by an older sibling for a younger one, photos of a family pets, symbols and items that were important to family members, etc... and I remember all of those stories as I page through my design book. So in that way, each design is my favorite.
EHCST:
what does a typical day look like for you?
ZZD:
I've been a licensed family child care provider for 15+ years so a typical weekday consists of getting myself and my children up and ready for work/school before spending the day with the daycare children. After daycare there are usually sports, music, or other extracurricular activities. On Tuesday nights I direct handbell choir and on Saturday mornings I direct middle school band. I sew after the kids go to bed Mondays through Thursdays, but Friday through Sunday nights are reserved for spending time with my hubby.
EHCST:
Do you find balancing a regular job and wahm-ing difficult?
ZZD:
Yes, it's definitely difficult to find a balance! I often see myself as one of those plate spinners in the circus but I can never keep all my "plates" spinning at the same time; one or another is always threatening to topple until I focus more attention on it again.
EHCST:
What's the best piece of advice you have to offer someone new to being a wahm?
ZZD:
The best piece of advice that I have for new WAHMs is to find something that you love to do and keep doing it as long as it's fun. If you no longer love it and it stops being fun it's time to re-evaluate.
And now, drumroll please ... onto the giveaway!
Giveaway, open to residents of the USA or Canada:
Zany Zebra Designs is offering this luscious bamboo (viscose) fitted diaper! This diaper is a size small and will fit babies from about 10-20 pounds. The outer velour is hand-dyed in shades of blue while the inner is undyed velour. The snap-in soaker is velour-topped fleece, and features our exclusive stitching as a special surprise for you. Retail value: $22.00
Mandatory entry:
* Visit
Zany Zebra Designs
and post a comment to the blog telling us your favorite item
Additional entries:
* Follow the team blog and leave a comment saying you are a follower
*
Fan/like the team on facebook
and leave a comment saying you did so
*
Fan/like Zany Zebra Designs on facebook
and leave a comment saying you did so
Please be sure to give us a way to get in touch with you should you win! The contest is open until Monday, May 17th. A winner will be randomly drawn and posted around 10 am est 5/17.
** Congrats comment #17 - Justine!