It's time for our April giveaway! This time around, we are focusing on those cute and snuggly little ones - this prize is just for newborns!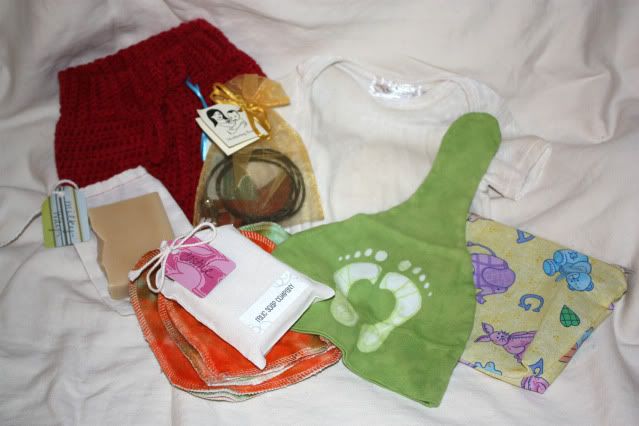 So what do we have here? Let's see ...
From Holden's Landing: set of 6 organic bamboo velour/organic cotton fleece wipes and mits, hand dyed in a gender neutral green/orange colorway (retail value $7.50)
From Gillyweeds: an adorable small soaker was crocheted by Gillyweeds using the Gillyweeds Top Down Soaker pattern. It's crocheted using 100% wool that has been professionally dyed in a striking semi solid red, perfect for any new baby! It features a roomy bum area, and ribbed waistband, with stretchy leg openings, and a roomy gusset. It measures with a rise of 16 inches, and 18 inch hips. It would fit an infant from 3-6 months. It comes washed, lanolized and ready to wear! (retail value $20)
From My Beautiful Girl: a luscious natural colored organic bamboo velour short sleeve lap tee in sweet newborn size, pairs perfectly with woolies! (retail value $18)
From Relic Soap Co: 2 bars of baby friendly cold processed artisan soap
Castile - Mildest of the milds. No fragrance, no colorants. Nothing except 100% pure olive oil soap. Our Castile makes an excellent facial soap for dry, sensitive skin. Moms love it for their babies - it rinses away so easily. (Just keep it away from the peepers, please!)
Milky Way - We begin with using fresh goat milk, rich in caprylic acid, which soothes and rejuvenates skin. Creamy milk combined with our perfect balance of oils and you've got a super mild yet cleansing bar. We add absolutely no fragrance to this bar. Great for sensitive skin, especially prone to eczema. (retail value $12)
From Little Gems: Mothering Rocks necklace - Celebrate your style while providing safe exploration for your babies while nursing or being held in slings or in your arms. This Little Gems Mothering Rocks nursing necklace features a Sterling Silver circular pendant proudly endorsing 'Family', strung on an adjustable cotton cord. The Sterling Silver Pendant measures 2cm in diameter, the same size as a quarter. (retail value $37)
From Chaco Creations: a great little pouch for just about anything. Measuring 7 inches x 5.5 inches, this pouch is a great size to hold your knitting tools, change or any of those little things you put in your purse! (retail value $10.50)
From Alphabette Zoope: a cute infant-size hat will keep your little one's head warm and can be knotted or worn without a knot at the top. Batiked with the Heartfeet design and handdyed in gender-neutral greens, this cap should fit from newborn through several months old.(retail value $14)
From Nifty Necessities: a $20 gift certificate
How's that? Over $130 in prizes for one lucky little baby!
How to enter, you ask? Well, read on ...
Mandatory entry: Search "team hyena" on etsy and post a comment with your favorite item
Additional entries:
* Follow the blog and leave a comment saying you are doing so (already following? Leave a comment letting us know!
* Fan the team on
facebook
and leave a comment saying you did so (already a fan? Leave a comment letting us know!)
* Tweet, blog, or post the giveaway on facebook and leave a comment with a link
and just for fun, leave a comment with your current favorite baby name for an additional entry!
Giveaway ends Friday, April 9th, and a winner will be announced around noon that day.
Congratulations to comment #85 - Bug! We will be contacting you shortly!