There is nothing I like better in the kitchen than baking with fresh ingredients. When A's parents brought over a ton of fresh apples from a local farm, I knew I had to whip up something sweet with them, but didn't want to go with the same old recipes, so I came up with this recipe for apple cupcakes with spiced brown cugar buttercream frosting. We had these at our Halloween party this year (along with vanilla and chocolate cupcakes with dark chocolate and peanut buttercream frostings) and they were the most talked about item that day!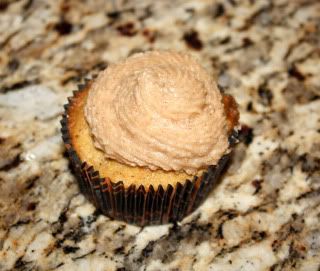 Apple Spice Cupcakes
(makes 2 dozen)

Ingredients:
2 sticks butter
1 cup brown sugar
2 whole eggs
1 cup buttermilk
2 teaspoons baking soda
2 1/2 cups flour
2 teaspoons vanilla
4 fresh apples (I used Spencer apples), peeled and chopped into chunks
1 cup chopped walnuts (optional, but they really make these cupcakes!)
1 to 1 1/2 teaspoon nutmeg (to taste)
1 tablespoon cinnamon

Cream butter and sugar together. Add eggs, one at a time, beating well after each addition.

Disolve baking soda in buttermilk.

Alternately add flour and buttermilk, mixing well after each addition. Mix in vanilla and spices. I use my kitchen aid for this and let the batter whip for a minute or two to make it light and fluffy. Add apples and walnuts and mix to incorporate.

Bake in preheated 400 degree oven until toothpick comes out clean.


Spiced Brown Sugar Buttercream Frosting

Cream 1 stick of butter with 1/2 cup brown sugar. Add 2 1/2T cinnamon and 2 cups powdered sugar. Mix until the consistency of frosting (you may need to add 1-2 T milk to reach a good consistency). This frosting will be slightly grainy due to the brown sugar. Pipe onto cupcakes using a large star tip or spread over tops with a knife. This keeps very well in the refrigerator for up to 2 weeks. Just let stand at room temperature and re-whip before frosting.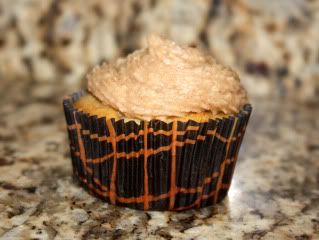 from
Bonnie, Holden's Landing