I am Erica, the momma behind Nifty Necessities. My first love is quilting and ring slings, but I have a wide variety of offerings. My husband is in the Navy so we move quite often, and since his schedule is crazy with strange work hours and deployments, it only makes sense that I would stay home with our children. We have three of them, all under the age of five. Our oldest just turned five and our youngest just turned one. My life is very hectic and so rewarding. I would not trade it in for one instant, even on the bad days.
My three beautiful children with their grandparents: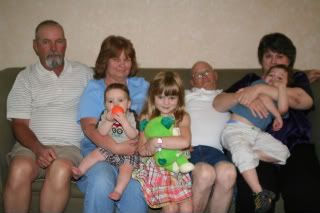 My husband and I when I was 8 months pregnant with my last baby: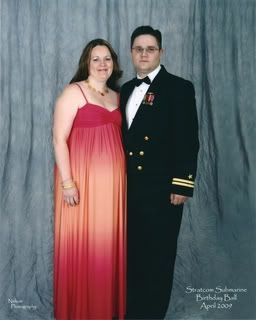 Now for the questions!
Team Hyena: Who taught you how to sew? and Knit? what is your favorite to do?
Nifty Necessities: When I was 12, we had to make a gym bag for the sewing portion of our home economics class, so I had some idea of how to sew in a straight line. Fast forward 15 years, and pregnant with my first child, I figured out how to make a couple of burp cloths to pass the time on a sewing machine my mother bought me for Christmas. If I had any questions I knew that I could ask my mom or my mother in law, and ask away I did.
When my husband was on his first patrol, I made him a Dallas Cowboys quilt. It is one of the ugliest things I have ever made but he takes it on patrol with him. My sewing skills have greatly improved since then.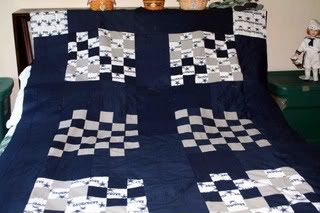 Knittinghelp.com, taught me how to knit. I do not know anyone who knows how, and with all of the beautiful yarn and things made from the yarn, I decided that I wanted to learn. I have loved every minute of it, and cannot wait to learn more. This is one of the first things that I have ever knit, and I just love the colors in it:
I really enjoy doing both equally. Knitting takes longer then sewing, but I love the portability. Sewing, is quick sometimes, but my sewing is in a finished section of the basement that I lovingly call the dungeon. It is set off of my children's play room and when they are sleeping it can be pretty lonely.
Team Hyena: What is your favorite thing about working at home? Your least favorite thing?
Nifty Necessities: My favorite thing about working at home is staying with my children. I get to keep them close to me and give them the best that I have to offer them. I am right there if they need me to give them hugs and kisses, and I am also there to take a break and give them attention when they need it.
My least favorite thing about working at home is that I do not get much adult interaction. My computer time is spent chatting on forums so I can have some adult time. I do talk to my husband and family, but I do not get to talk to anyone outside that family unit very often. I do make it a point to get out of my house each and every day. Fresh air does a body and soul some good.
Team Hyena: Do you have a favorite item that you have made? What is it?
Nifty Necessities: Yes, I do. As a whole I enjoy making slings and I just love this combination and how it turned out:
I love making slings because I love babies, and I believe that they should be held close. I like to think about the baby that could be carried in one of my slings and know that they are loved very much, but if I had to narrow it down to one specific thing, this quilt would be my favorite thing that I have ever made.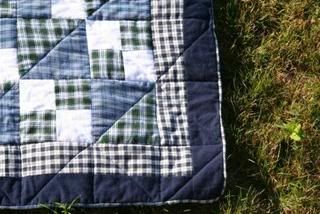 I made this for a sweet customer who had lost her father to cancer the year before. While I had never been in this situation, I could relate having lost my Mammaw when I was 18 in almost the same situation. This quilt was made from her father's flannel pajama pants, and I enjoyed every minute of making such a memorable keep sake. I made this several years ago, and the meaning still holds a special place in my heart.
Team Hyena: where do you get your inspiration from? What is the best part about your work? the worst or hardest?
Nifty Necessities: I find inspiration everywhere. I find it when I look at my children or when I am walking through the store. I might find something that I like and I think to myself, "How can I make this better?" The best part about my work is seeing the finished project and knowing that all of the hard work paid off. I truly love what I do, and my absolute dream job would be to open my own quilt shop.
The hardest part, is drafting a new pattern. While I do enjoy coming up with a new design for a customer, it is not easy and it really does take up a big chunk of my time. The great thing is that I can call it my own, and that makes the hard part worth while.
If you made it through all that, then it is time for the giveaway...
Nifty Necessities will giveaway a knitting project bag valued at $15.00
The bag is drawstring bag, with a carrying handle and is approximately 7 inches in diameter and 14 inches high. example:
How to enter:
* Visit Nifty Necessities on etsy and leave a blog comment telling us your favorite item
Additional entries:
* Follow the team blog and leave a separate comment telling us you are a follower
* Fan the team on facebook and leave a separate comment telling us you did so
Please make sure to leave each comment in a separate post, and be sure to give us a way to get in touch with you in case you win! Winner will be picked using random.org on Monday, June 14th - good luck!