A delicious lemon baked chicken recipe easy to dress up for company or prepare quickly for a family dinner. Don't miss these tips and tricks for dressing one recipe for more than one occasion!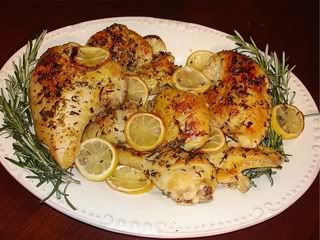 Ingredients
Whole Chicken, cut into pieces
1 Cup Dry White Wine
1/2 Cup Extra Virgin Olive Oil
4 Lemons
2 Garlic Cloves, finely chopped
1 Tablespoon Fresh Rosemary, minced
2 Teaspoons Fresh Thyme Leaves
Salt & Pepper, to taste
1 Sweet Onion, peeled and quartered
1 1/2 Cups Baby Carrots
Fresh Rosemary Sprigs for Garnish
Preheat oven to 350 degrees. Rinse Chicken and pat dry. Place chicken pieces in a shallow, non-stick roasting pan. Arrange quartered pieces of onion and baby carrots around chicken. Pour wine over chicken pieces and cover chicken with the juice of two lemons. Drizzle the olive oil over the top.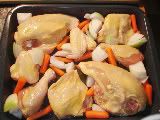 Sprinkle chicken and vegetables with salt and pepper to taste. Cover chicken with garlic, rosemary, and thyme. Slice one of the remaining lemons and arrange slices decoratively over the chicken.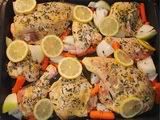 Dressed down: When I'm making this dish for a quick family dinner, I take a few shortcuts! Always use fresh lemon juice, but you can substitute fresh rosemary and thyme for dried. I save herbs from the garden in the Summer and dry them for future use but straight from the jar is good too! Use minced garlic from the jar or even garlic powder. Skip the sliced lemon garnish all together. You won't sacrifice flavor- just save a little time!
Bake on the middle rack of the oven for a total of 1 hour. Begin basting the chicken after 45 minutes, using pan juices. After the chicken has cooked for 55 minutes, squeeze the remaining lemon over the top of the chicken. Turn the oven to broil at 350 degrees. Place chicken under the broiler for approximately 5 minutes or until the skin is golden and crisp.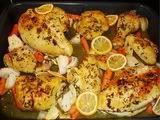 Dressed down: You're ready to eat! Serve straight out of the pan. Be careful if little hands are reaching for chicken. The pan is still very hot!!
Dressed up: Arrange chicken pieces on a platter. Place lemon slices that are now slightly golden over the top decoratively. Finish with fresh rosemary sprigs for garnish. The perfect, yet still easy, dressed up meal for company!